Many companies are facing a tough battle when trying to reach a young audience that predominantly rejects regular advertising messages and traditional norms. One of the things that stand out from a number of pillars that brands should know—when building millennial brand relevance—is to surprise with content. Their aim should be to stand out from the crowd, and "help the consumer see beyond suggested and pre-coded choices, while combining engineering and creativity to deliver high-impact content," suggests Giuseppe Leone in an interesting article at brandingmag.com
And that was exactly the greatest challenge faced by both Jägermeister and Proximity Barcelona: How do you advertise for a public that hates it?
The two decided to follow the rule mentioned above and chose to move away from traditional marketing channels to give the youths what really interests them. Sharable, surprising content in an original format that is delivered using a message and language that the millennial audience (and not just them) would perceive as truly "theirs".
Moreover, while the popular digestif made of 56 herbs, Jägermeister, wanted to adapt its new global positioning, "Irreverent perfectionism," to the Spanish market and also to appeal to a more mainstream target market without losing its most loyal consumers, the Barcelona-based creative agency turned their focus to the music industry. A place, where it's not uncommon for many artists to collaborate with one another. And as the "Be the Meister" concept suggests, the campaign had to take such musical duet one step further, creating a surprising type of content that further explores the line between entertainment and advertising.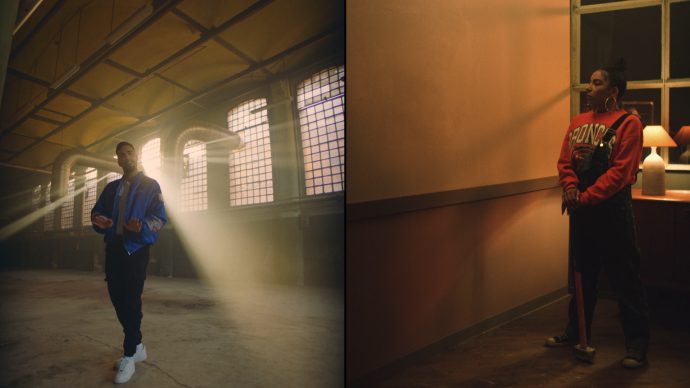 This time it's not about covers, crossovers, or even simple duets between two seemingly-incompatible artists. We've all heard plenty of these. What Jägermeister and Proximity Barcelona propose creates a fusion of 2 songs and 2 music videos from 2 different artists in a way that, when put together, they end up making a completely new song and a new music video. This way, Jägermeister aims to transmit its new positioning using an unpublished piece in an audio-visual format, and with voices that its younger target audience will be willing to listen to: two urban music artists.
And here it is, a trap rhythm, two contemporary artists, and a visually catching music video.
The beat aims to reach the Spanish millennials in a way that a regularly branded manifesto with a voice-over simply can't. Then, the video features musical production of Anthony Kilhoffer, a famous producer from Los Angeles who has worked with artists such as Kanye West or Rick Ross, and the audio-visual production of CANADA production company, which has been responsible for successful music videos such as "Malamente" (Rosalía) or "Mala Mujer" (C. Tangana).
This close collaboration demonstrates the importance of mixing strategy, creativity and production in order to create quality branded content. It introduces one of the most successful Spanish hip hop and trap musicians, Rels B, and an up-and-coming artist called Deva who mixes different styles of urban music. Altogether, we have a completely unique piece of audio-visual composition that mixes their two personal styles into a track titled "Be the Meister."
Amanda Muñiz, Client Services Director at Proximity Barcelona, ​​explains the complications that form a part of such an ambitious campaign: "Working for a brand as important as Jägermeister has been a very interesting opportunity. This campaign is a new example of where advertising is going: content with a concept. In keeping with that, we've come up with a new formula: 1 + 1 = 3."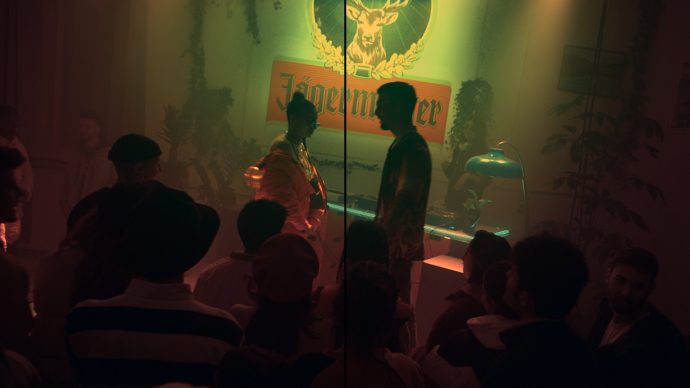 According to the agency, both of the artists are known to "have triumphed by breaking the rules of the music industry and by relying only on their own resources." We can say that by choosing such two artists—who had to leave behind precarious employment and social pressures in order to be faithful to their dream, to dedicate themselves to their music—has been a master move.
The final piece is composed of two songs, "Ballin'" by Rels B and "Quién Quieres Ser" by Deva. These songs have been independently released in the Spanish market, and also included the production of their music videos. In addition, the two videos have been shot in a vertical format so that, when they come together, a third video is discovered: a piece full of visual games and symmetries that also complements the individual stories. A piece of surprising content that we like to see! And not just in branding…
Credits:
Agency: Proximity Barcelona
Product: Jägermeister
Title: Be The Meister
Global Chief Creative Officer: Eva Santos
Creative Director: Ferran Lafuente & Ramón Caba
Art Director: Rodrigo Chaparreiro, David Casado & Juan Cantero
Copywriter: Edu Escudero & Guillem Gutiérrez
Strategy Manager: Patricia Urgoiti
Strategic Planner: Silvia Lahoz
Client Services Director: Amanda Muñiz
Account Supervisor: Aida Mateo
Account Executive: Roger López
Communication Director: Laura Carrillo
Production Director: Maria Soler