To see the original post and the Video, click
here
Written by Manoj Kumar R | Bengaluru | Published: February 6, 2018 5:17 pm Kannada rap titled Nangansiddu has been sung by Rahul Dit-o and produced by Alok Babu. Over 400 newborns died in 16 neighbourhood care units in Delhi last year: RTI Happy Rose Day 2018: Wishes, Best Quotes, Images,...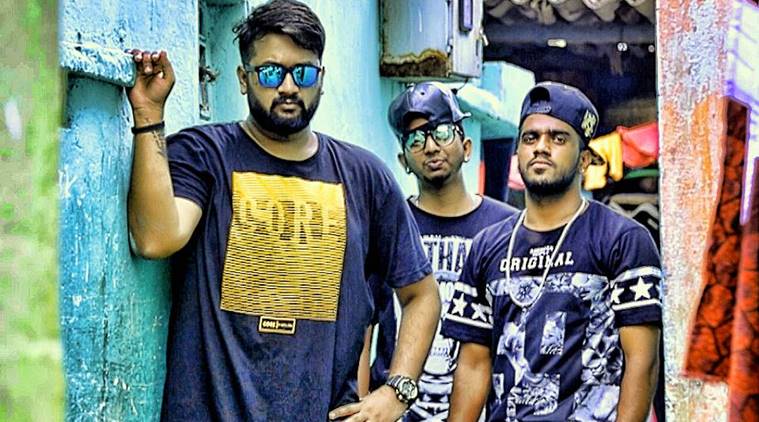 Written by
Manoj Kumar R
| Bengaluru |
Published: February 6, 2018 5:17 pm
Kannada rap titled Nangansiddu has been sung by Rahul Dit-o and produced by Alok Babu.
In the last 10 years, the independent music scene in Karnataka has become very vibrant and competitive. Especially, the Kannada rap music is fast growing and new stars are emerging from it.
Fans of independent music have been divided over recently released Kannada rap titled Nangansiddu (a rough translation reads, This is what I think), which is sung by Rahul Dit-o and produced by Alok Babu aka ALL OK. While the song has gone viral on YouTube, it has also courted controversy.
Nangansiddu, which is touted to be a satire rap, has Rahul Dit-o taking on 'wannabe' rappers, who have still not got their basics right. It also suggests that some rappers are passing off 'crap' as 'rap.' The song even begins with a disclaimer saying 'this song is work of fiction,' and 'do not intend to hurt any sentiments of any individual.' It also adds the in case the song bears a resemblance to any person living or dead, 'it's purely coincidental.'
The controversy broke out soon after the song was out as many thought it was solely written to mock popular rapper Chandan Shetty, who also recently won the Bigg Boss Kannada season 5 title.
"I didn't expect such a response to the song," Ditt-o told Indianexpress.com reacting to the controversy. "We made this song to educate the Kannada audience about rap music. To let them know what rap sounds like. It's a satire rap, it sounds like that only." said Rahul. "I'm not particularly pointing out anyone here. That's not right."
Listen to the rap here:
"I don't know why people started targeting only one person through this song. It is a satire on fake rappers, who portray rap in a wrong way," reasoned Alok, who has produced many music videos with Ditt-o. "We have not named anyone in the song for such controversy to break out."
"Some people have accused us of doing such songs because we are jealous of someone else's success. If we were jealous, we would have started doing commercial songs long back. We're sticking to our ideology and doing content driven subjects in Kannada," Alok added.
The song has caused some fans to believe that Ditt-o has taken A swipe at Chandan Shetty and they began trolling the song on the internet. This prompted the fans of Ditt-o to come out in his support.
"I personally spoke with Chandan and cleared the air. Chandan himself has no issue with the song. He said it's a good attempt and everyone should support it," Alok added. "Only a small set of people are causing this controversy and spreading hatred."
Alok and Ditt-o opined that there is a need to enlighten the Kannada audience about rap music and they have determined to work towards that goal.
"Nangansiddu is also our experiment with content. If not now, then when?," asked Ditt-o, who said he wants to bring a revolution in the independent music industry and take it to the mainstream.
Ditt-o said he will continue to make songs with materials drawn from his personal struggles and that of independent artists. And he won't be bogged down by such controversies and begin censoring himself. "I will only be bolder from now on," he announced.
Ditt-o and Alok also rued the lack of support from the television channels for indie music. "Majority of Kannada music channels don't play songs from the independent artists. And also, the clubs and discos should encourage independent artists by playing their songs. That revolution should happen," said Alok.
Music videos from Kannada independent artists are already a rage on YouTube. Ditt-o and Alok have churned out many hit numbers and have received millions of views. They along with the Hip Hop Kannadigaru team last year performed at the first international Kannada rap concert in Dubai. But, they are also not happy as they feel they are yet to get the due recognition for their talent from the audience and the industry.
Before he dominated the pop culture discussion in Karnataka by participating and eventually winning the latest season of the Bigg Boss Kannada, Chandan had made a mark as an independent musician. His music videos are also a rage on the internet.
Artists MC Bijju and SID are among the independent musicians who are creating a niche for themselves in Kannda rap music.
For all the latest Entertainment News, download Indian Express App
How to Automate Video Content Marketing in Under 1 Hour
5 Easy Video Lessons +
Bonus Free Toolkit