To see the original post and the Video, click
here
For 35 years, Heritage University has focused on students whose low incomes and rural homes were barriers to higher education, and that's the mission the university's new president plans to continue.Andrew Sund, who has served as acting president since July, was formally inaugurated...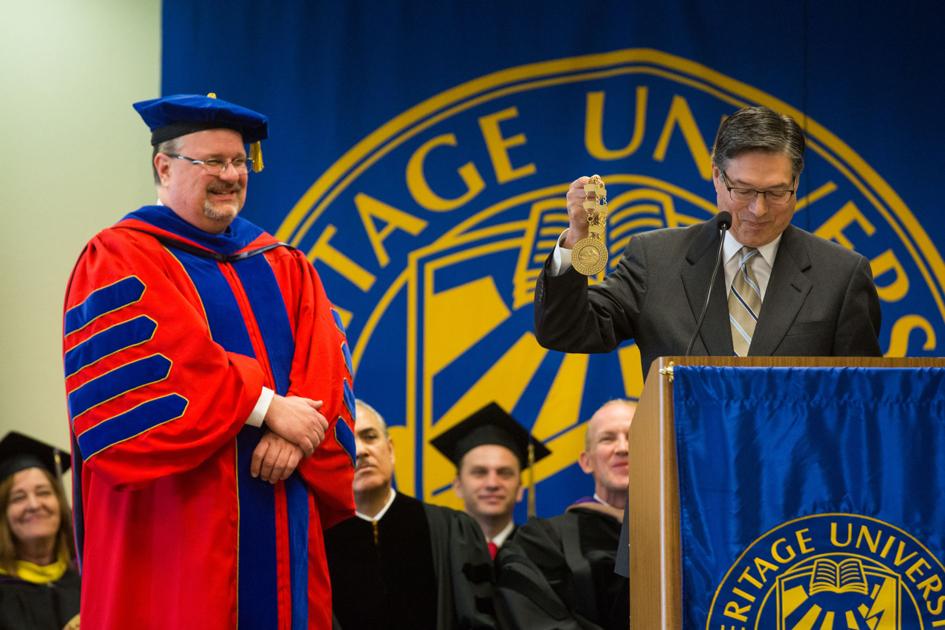 For 35 years, Heritage University has focused on students whose low incomes and rural homes were barriers to higher education, and that's the mission the university's new president plans to continue.
Andrew Sund, who has served as acting president since July, was formally inaugurated Friday. But in his seven months as the interim president, he's seen striking similarities between Heritage and Chicago's St. Augustine College, where he was president for more than a decade. Sund said he hopes to use those years of working with nontraditional students to better serve those in the Yakima Valley.
The Yakima Herald-Republic recently asked Sund about his thoughts on Heritage, its more than 1,000 students and education in Valley:
Q: What drew you to Heritage University?
I've dedicated my entire career to working in higher education, but specifically in working with students who are usually the first in their family to attend college, or students from low-income or underserved backgrounds. The institution I was working at in Chicago has many similarities to Heritage in that regard. But I was also drawn to certain programs it offered, such as its graduate program in health services, and its location in a rural environment on a Native American reservation. I was very interested in working with these populations.
What are the biggest barriers facing those first-generation students or those from low-income families?
Heritage students are remarkable people because they face lots of barriers, but they overcome them. The biggest barrier is how to afford an education. We help a lot with financial aid and scholarships, but it's still difficult. Second, our students balance many things in their lives: they often have families they need to care for; they need to work; there's sometimes illnesses in the family, so balancing life and work and education is much harder for the population we serve at Heritage.
Another barrier — one I'd really like to work on — is people sometimes believe they can't do it. They need to know they deserve a higher education and that they can achieve it. They often tell themselves, "Well, this isn't for me," and that's one issue I like working with students on and seeing their transformation in that regard. They come in doubting whether they should be here in the first place, but then I get to see them at commencement receiving their degree.
How does Heritage differ from other area colleges?
Heritage is different from other institutions in that, although we have similar programs and recognition in quality, we've created an environment where the population we serve feels at home, and feels that they belong there and can succeed.
What are some examples of how you provide that support and environment?
It's all over. It's in the attitude that everybody has. First, faculty here have an incredible commitment to working with students that I've never seen before. They connect with students through texts and Facebook messages; they're very in-tune with individual students. Our classes aren't big; we have a student-to-faculty ratio of 12-to-1, so that helps in getting students a lot of individual attention. And we have a lot of special services geared to specific groups of students, such as tutoring for people who have been out of school for a while, a summer bridge program, and individualized education programs — such as agriculture programs — for people who come from rural areas. We touch them in many ways to get them to feel that they can succeed.
How do you see the university changing in the next five to 10 years?
I think several things will happen. First, I think it's going to grow. We'll probably have more students in the future. I think there's going to be more activities that connect it with the community around us, such as providing workforce training for companies and organizations. We may have other activities such as sports that we're going to add for the young people and perhaps, if I have my way, we may have a building or two built off campus to serve as a student center.
What's a misconception surrounding Heritage?
I think a misconception is people think, because we're small, we don't have all the services that people want. We are a small institution and we provide very individualized services, but we have top-level technology and highly qualified faculty with terminal and doctoral degrees from elite institutions. I believe we need to work on this because many in the Valley don't really know about us. They should know that we're here. I find myself going to places and talking to people that I believe could benefit from a Heritage education or whose children would benefit from a Heritage education, but they don't know us well. It's not really a misconception, but outreach is something else we need to work on.
What do you think is the biggest challenge facing Heritage as an institution?
The biggest challenges we face are external. Our students depend on external systems and funds, such as federal and state financial aid and grants. We're in a period where the value of higher education is often questioned, so some of our funding streams aren't where we'd like them to be. Things like that make our work a little harder.
What surprised you as you started to work closer with Heritage's staff and students?
Something that surprised me at a very deep and serious level is the commitment of faculty to work directly with students, even though these are faculty that come with very elite degrees who in other institutions are more accustomed to conducting research rather than working with students. That's a very important thing. Another thing that's surprised me that's less important, well maybe more funny, but still important, is the distance students travel to come to class. I mean, that commitment is incredible. People come from 30 or 40 or 50 miles to come to class. Maybe it's because I come from an urban environment, but that surprises me. I've been very impressed with that commitment.