To see the original post and the Video, click
here
Albany Business Review Publisher Cindy Applebaum poses with Chris Kwarta of Liberty Design Group and builder Peter Belmonte at the Saratoga Showcase of Homes awards reception. (Photo provided) Albany Business Review Publisher Cindy Applebaum poses with Chris Kwarta of Liberty Design Group and...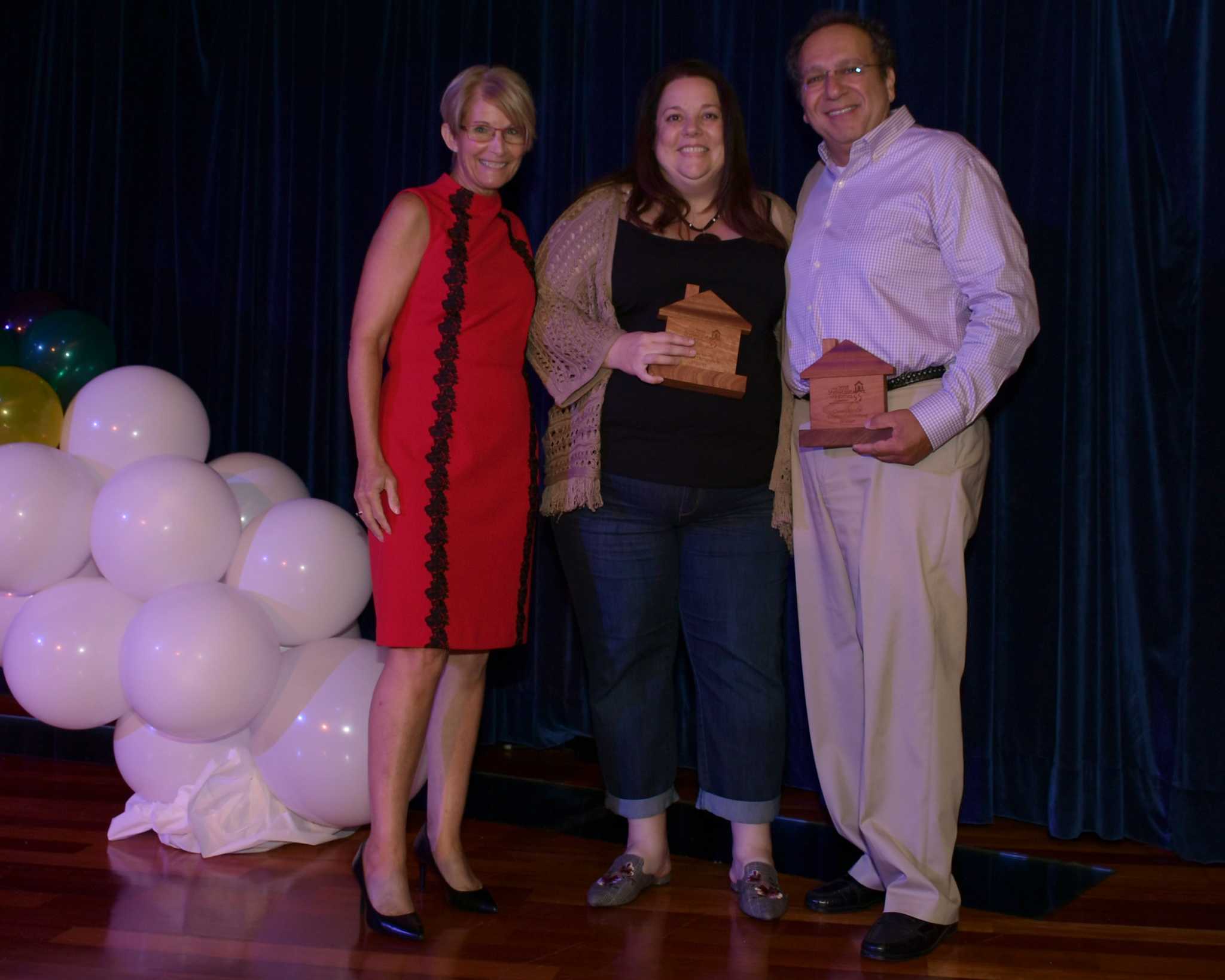 Milestone marked
Decades ago, when Tri-City Rentals was still a young company, they bought the Sheridan Apartments, a 276-unit complex in the Northside neighborhood of Schenectady. It was one of the company's first acquisitions.
Tuesday, Tri-City celebrated 50 years of ownership at Sheridan with a harvest party and donations to local nonprofits.
The one and two-bedroom apartments are spread throughout 21 attractive brick buildings, built in 1952. Rent, including heat and hot water, for a one-bedroom apartment is $915 and two-bedroom units are $1,025. The complex is now one of 27 properties the company manages in the Albany area; 10 in Greater Rochester and nine in Greater Buffalo.
The company donated $5,000 each to two Schenectady nonprofits that address housing needs: the YWCA of Northeastern NY and the YMCA Men's Residence.
City Mayor Gary McCarthy read a proclamation declaring Oct. 16 Sheridan Apartments Day, and Sen. Jim Tedisco, R-Glenville, noted a personal connection to the complex: He lived there 42 years ago, after he graduated from college.
Lou Magliocca, executive director of the YMCA's housing division, also noted a personal connection between Tri-City and the YMCA: The company's general manager, Tim Owens, donates old suits to the men who live at the 875 Commons Residence Program on Broadway in Schenectady. The residence provides affordable housing to veterans and men who have physical or developmental disabilities or who have HIV/AIDS.
Julie Massry Knox, sales and marketing manager at Tri-City, said the donations were the company's first to these two specific YMCA/YWCA groups, although Tri-City has supported the YMCA mission in the past.
"They also deal with housing, but they fill the needs for a demographic we can't serve, because the men and women who use their services may not be able to afford rent," Massry Knox said.
Best in show
The award winners in the Saratoga Showcase of Homes have been announced.
A panel of professionals chose winners in seven categories: landscaping, workmanship, master bath, kitchen, exterior design, floor plan and interior decorating.
Tour participants were also asked to choose their favorite homes in a "people's choice" category. In the classic home division, Kodiak Construction (2 Moss Creek, Middle Grove) was the winner; executive home: Malta Development (10 America's Cup Ct., Malta); and luxury home: The Form Collaborative (5 Maddy Groves Road, Greenfield Center).
The Form Collaborative swept the luxury home category. In addition to trophies awarded to company principal Ryan Berry, Justin White of Bayberry & Co. was honored for landscaping; Susan Waldron Designs won for the interior design of the modern contemporary home; and Sarah McDonald won for best kitchen.
In the executive home division, Bonacio Construction's entry — Unit 104 at the Residences on Union Avenue –— was the winner in landscaping (James Williams of Galusha & Sons/Cloverleaf) and exterior design. Witt Construction (9 Persimmon Place, Saratoga Springs) took first in floor plan and workmanship. Bella Home Builders' entry (4 Rolling Green Drive, Wilton) won in the master bath, interior design (Bennington Furniture Design Team, Andrea Chenier, Kaitlynn Johnson and Jeff Ture) and kitchen (Heather Bodnaryk of Curtis Lumber) categories.
Awards in the classic home division went to Kodiak Construction for workmanship and exterior design. Jesse Marco of Brookside Nursery was recognized for the landscaping at the Kodiak house, as was Julia Day of Creative Designs Kitchens for the kitchen in the Kodiak house. Belmonte Builders (4 Brentwood Blvd., Saratoga Springs) won the classic home floor plan category and Chris Kwarta of Liberty Design took the trophy for the interior design. The master bath at the entry from Heritage Builders (12 Ironwood St., Ballston Lake) was also named a winner.
For a full list of winners that includes the runners up, go to saratogashowcaseofhomes.com.
The tour has raised $1.1 million through the years for two charities: Rebuilding Together Saratoga County and Habitat for Humanity of Northern Saratoga, Warren and Washington counties. This year's donation amounts will be announced later this fall.
Empire State Plaza included in modern architecture tour guide
Love it or hate it, Albany's Empire State Plaza never fails to draw attention and opinions for its distinct design. Most recently, it is included in a field guide to modern architecture on the East Coast called "Mid-Century Modern Architecture Travel Guide: East Coast USA," produced by Phaidon, a publisher of books on art, photography, design, architecture, fashion, food and travel. Frank Lloyd Wright's Fallingwater is in the book, along with Dulles Airport in Washington D.C. and the National Arboretum, also in D.C. and Polk State College in Florida. The University at Albany is also included.
Author Sam Lubdell writes of Gov. Nelson Rockefeller's legacy project, designed by Wallace K. Harrison and others: "For monumental scale, nothing beats the Empire State Plaza, a 98-acre, $2 billion Modernist civic center complex…There are so many impressive edifices, such as the Legislative Office Building, which features a green marble "well" that is clad in marble, as are the walkways, heating vents, planters. Everything."
Lubdell was particularly taken with The Egg, noting its thin stem that extends six stories underground.
The author describes the UAlbany's uptown campus as one of the greatest surprises in the book, "an epiphany for even the most ardent architecture zealot."
"The 'Academic Podium,' as [architect Edward Durell] Stone called it is the architect's Modernist acropolis, a raised grid of white classically inspired New Formalist academic and administrative buildings." The book is available at phaidon.com.
lhornbeck@timesunion.com • 518-454-5352 • @leighhornbeck